With all the hoorah surrounding Facebook's May 2010 privacy changes and new policies, I thought it would be a good idea to collect all the hacks I know of together to keep your personal info as secure as possible!
Facebook Privacy Scanner
ReclaimPrivacy.org brings a nifty javascript applet based scanner that will evaluate your privacy, and where you can tighten it up.  Be forewarned, however – it doesn't work on all browser/OS combinations. (eg, my friend Ron couldn't get it to work on Win7+FF3.6 or IE8)
This little baby actually takes care of 95% of potential personal information security issues.
Facebook Privacy Settings Map
The privacy settings are really spread out and difficult to find in many instances.  The New York Times has a map to help track them all down.
AdBlockPlus Hack
Lifehacker points out that if you're using FF with the AdBlockPlus addon, then you can also prevent third party sites from knowing that you're logged into facebook using some custom filters.  The process is very easy, no need for the techno-unsavvy to get jumpy.
***UPDATED 2010/05/21***
Interests & Activities Linkification Leaks Your Info
A few weeks ago Facebook made interests and activities into links to either existing or placeholder pages.  Now when you edit lists, you'll notice that they're listed as 'Friends'.  I don't know about you, but most of my privacy levels are set to 'Friends only'.  So this will give access to your 'Friends only' data thru these pages – a huge privacy gap!
bunnusmac from The Consumerist has a good, if exhausting, work around:
"I simply created a list for 'Groups' and placed all groups and interests into that list. After that again went to privacy settings and instead of "just friends" I went to custom and added the list. So my settings are currently. 'Only Friends; except groups'."
"Instant Personalization" Possible Even After Opt-Out
There are several third party Facebook apps that can access your personal info via your friends that haven't opted out!  So you have to go to each of these app's Facebook pages and explicitly select the 'Block Application' link under their profile picture.  You can find a list of these apps in the 'Help Center'.  This list may grow, so you may want to check back on it once in a while.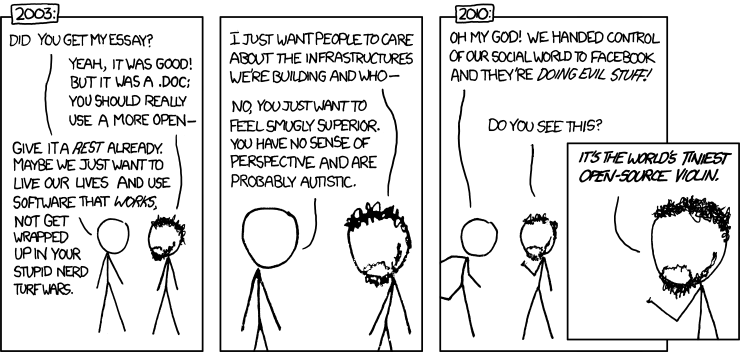 ***UPDATED 2010/05/25***
The Evolution of Privacy on Facebook
I found a fantastic interactive graphic of how Facebook's privacy policy has changed what information defaults to public sharing from 2005 to 05/2010.  It's from Laurel Russwurm's comment on techi.com's "Facebook vs. Canada. It's about to get ugly".